When a statement is true, it is not defamatory
no matter how offensive or embarrassing. . . .
The truth is always a defense to any defamation accusations . . .

Lawsuit filed in San Diego Superior Court
Case # 37.2016.00019244-CU-FR-CTL

Be aware of the other business names they use:
Cate's Critters, Learning with Love Dog Training, SCM&K , Dream Dog Academy,
Happy Cat Rescue. THIS BUSINESS HAS NO KENNEL LICENSING ON RECORD







Chula Vista Animal Shelter, the shelter she took Sandy to be killed
at has given Cate Sacks over 800++ animals

see the list on this page: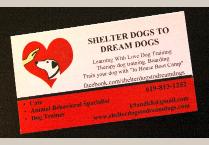 Public records show three other dogs met the same fate as Sandy, when Cate Sacks drove them to Chula Vista Animal Care Facility after she "adopted" them a few days earlier. This shelter even created paperwork to show Sandy was "adopted" by Cate Sacks before she ordered him killed. Sandy, from a local non profit rescue organization that paid $4300 to Sacks.

Cate Sacks delivered them to be killed immediately~ by lethal injection.
Driving 30 miles from her home past 2 other shelters,
so she could specifically use her friend and rescue coordinator.
Shelter Dogs To Dream Dogs advertises itself as a dog "rescue" and a "training" facility. Chula Vista Animal Care Facility and their rescue coordinator, Linda Septon, along with Cate Sacks decided to kill these four dogs. They did not hold any of these 4 poor rescue
dogs for the state mandated, required 72 hours. They decided together
to end their lives by murdering them by lethal injections and then probably
tossed their bodies out the back door of the shelter in a trash bag and a barrel.
Is this the type of person you would be willing trust alone with your dog? Pay $1000 a week for a "doggie bootcamp". We made a horrible mistake trusting her, but you don't have to.
California Hayden laws are very clear:

A shelter may NOT kill an owner-relinquished animal without holding the animal
for the minimum 72 hours that stray cats and dogs must be held under state law
(Food and Agricultural Code section 31754).
That is true regardless of the species of the owner-relinquished animal
and regardless of an owner's expressed wishes that his/her animal be killed.
The Commission decided that the law does not require shelters
to take in owner-relinquished animals but does require shelters to provide
a holding period if shelters decide to take in owner-relinquished animals.
Shelters have the choice of rejecting owner-relinquished animals
or accepting owner-relinquished animals and holding them for owner-redemption
and adoption for the same period as stray cats and dogs.
Shelters may not kill owner-relinquished animals
before the statutory holding period of 72 hours has elapsed,
with or without the owners' permission.
(Food and Agricultural Code section 31754)
Only animals who are irremediably suffering may be humanly euthanized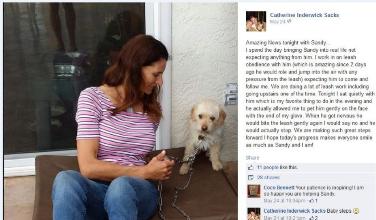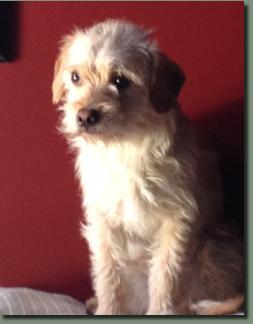 Our Sandy would be killed just a few days after we saw this post on Facebook.
Our little Sandy was trying so hard to please her,
yet on Saturday, June 7th, the day after Cate Sacks deposited her final $ 2500 check,
she drove Sandy to the shelter, past two other shelters, 30 miles from home. Claiming he was injured and unadoptable. Sacks drove past Bonita and El Cajon shelters. Delivered him to
Chula Vista Animal Shelter, where her friend, Linda Septon works. Cate had him killed and then lied to cover it up for months afterwards. Even going as far as sending fake progress reports to us after he was dead. And telling San Diego Animal Control to keep the investigation we requested from us. And there is more, we found via public records this is the 4th dog she's done this to.
See SANDY's movies that Cate Sacks posted on Facebook before having him killed.
here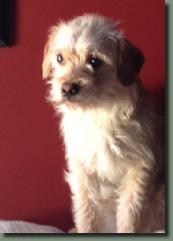 "Never, never be afraid
to do what's right,
especially if the well-being
of a person or animal
is at stake.

Society's punishments are small compared to the wounds we inflict
on our soul when we look
the other way."
MLK

#CateSacks
#ShelterDogsToDreamDogs
UPDATE

Motion for Anti SLAAP filed in February 2017
by our attorney Bryan Pease, on appeal

Why?

After having Sandy killed, then
lying about it for months, Catherine Sacks
decided to file a DEFAMATION suit
because we shared our story of
what happened to our non profit dog rescue
and to us personally. How we were victimized,
and lied to. In our opinion, now she is doing her very best to paint herself as the victim
after everything she did and lied about.
We can't help but think of Bill Cosby
who did the very same thing to his victims.
Her defamation suit is for $500,000

Sacks holds herself to the San Diego dog
community as the "Dog Whisperer".
She charges $1000 week for her" training"
at SHELTER DOGS TO DREAM DOGS
in El Cajon, California,
yet has NO kennel license.
She took Sandy to the shelter to be killed
the day after she cashed
the final check for $2500.

She pretended she was still training Sandy
for nearly two weeks after he was dead.
•

Below are some of the comments we received
via email from Sacks as the reasons she took
Sandy to the shelter and ordered
him killed by lethal injection.

When you read the excuses below, remember
Catherine Sacks charges
a $1000 week for her special brand
of dog "training" services. She runs a
doggie boot camp and also professes to be
"San Diego's Dog Whisperer". We found
she doesn't have a simple kennel license.

Cate Sacks explains why she had Sandy killed:
"... Sandy just hated being alive..."

"... poor pup was in so much pain from
having to continually protect himself
from the boogie man..."

"... he truly does not want the love back"

"..... he was just too dangerous..."

".... he had a hurt paw...."
".... Sandy was extremely aggressive.... "
"... I wish Sandy had a home so I could have
continued to work with his parents....."


Meet #CateSacks, owner of
Shelter Dogs To Dream Dogs
in El Cajon, California near San Diego
Public records obtained show she has
taken a total of 4 rescue dogs
to Chula Vista Animal with instructions :
"Euth Req"
She requested that shelter workers give
these 4 dogs a lethal injection to kill them
and dispose of their bodies.

She professes to be a dog rescue
and professional dog trainer.

We were horrified to find out
what she is capable of and to have been victimized.